Accommodations
Aloft Philadelphia Downtown
101 N Broad St, Philadelphia, PA 19107, USA
877-462-5638

Group Code - JH23AA
20 available rooms per night (8/24/18 & 8/25/18)
Single/Double - $169 per night
Triple - $184 per night
Quad $199 per night
Rates do not include applicable state taxes and local fees (currently 16.25%)
Check-In time - 3pm
Check-Out time - 12pm
Loews Philadelphia Hotel
1200 Market St, Philadelphia, PA 19107, USA
888-575-6397

Must book by Friday, July 27, 2018
Group code - JTW825
30 available rooms for each night (8/24/18 & 8/25/18)
Single/Double - $129 per night
Triple - $154 per night
Quad - $179 per night
Rates do not include applicable taxes
Check-In time - 4pm
Check-Out time - 11am
Cambria hotel & suites Philadelphia Downtown Center City
219 S Broad St, Philadelphia, PA 19107, USA
215-732-5500

Must be booked by Saturday, August 1, 2018


Group code AE4RT2




20 available rooms per night (8/24/18 & 8/25/18)




Single/Double - $160 per night




Rates are subject to applicable taxes (16.25%)




Check-In time - 4pm




Check-Out time - 11am
Holiday Inn Express Philadelphia Penns Landing
100 N Christopher Columbus Blvd, Philadelphia, PA 19106, USA
800-843-2355

Must be booked by Wednesday, July 25, 2018
Block code - JTU
20 available rooms per night (8/24/18 & 8/25/18)
Single to Quad - $139 per night
Rates do not include taxes (16.36%)
Check-In time - 3pm
Check-Out time - 11am
Travel and Transportation
Hollowsands Luxury Limousine

(877) 397-4330

Hollowsands Luxury Limousine is Philadelphia's best Limousine and Chauffeured Car Service provider. Our team is recognized for their professionalism, reliability, and their superior service. We offer top-of-the-line limousines, party buses, and town cars to cater to all of your transportation needs.
Super Shuttle

(800) 258-3826

No matter your travel needs, SuperShuttle has versatile transportation solutions to fit every situation and budget! Groups large and small, families, business travelers, and solo adventures - we make airport rides easy for you!
Enterprise Rent-A-Car

(855) 266-9289

Southeastern Pennsylvania Transportation Authority (SEPTA)

(215) 580-7800

SEPTA is a regional public transportation authority that operates bus, subway/elevated line, commuter and light rail line, and electric trolleybus services to nearly 4 million people in five counties in and around Philadelphia. (wikipedia.org)
Uber
Please download app to your cellular device.
Lyft
Please download app to your cellular device.
Philadelphia International Airport
8000 Essington Ave, Philadelphia, PA 19153, USA

Newark Liberty International Airport
3 Brewster Rd, Newark, NJ 07114, USA

Things to Do
One Liberty Observation Deck Admission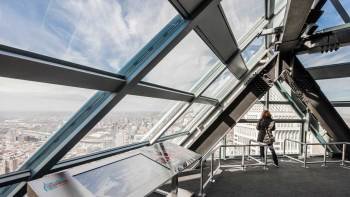 1650 Market Street, Philadelphia, PA 19103

No trip to Philly would be complete without a visit to the One Liberty Observation Deck, a vantage point that lets you soak up sweeping city views from 57 floors up. Enjoy admission to the world-class lookout and enhance your experience with a healthy dose of US history.
Make your way to One Liberty Place on Market Street, a polished architectural wonder of a building that reaches 945 feet (288 m) skyward. Step into an elevator cab that recreates the shape of the building's spire and zip up to the top of the tower, where the feet of a massive statue of Ben Franklin greet you. Gigantic murals and interactive touchscreens reveal captivating bits of US history and the Founding Fathers as you explore the deck.
Follow a kite string to the building's top floor, where the head of Ben's statue forms the centerpiece of a 360-degree observation deck encompassed by floor-to-ceiling glass walls. The views from this vantage point can't be topped—bird's eye glimpses of busy city streets, towering skyscrapers, and the mighty Delaware River are just the beginning.
Touchscreens throughout the deck offer an opportunity to delve into the nation's rich history and get high-definition looks at some of the city's most cherished monuments. Learn about local sports, music, and pop culture, with commentary available in 5 languages. Stick around for a breathtaking sunset before making the decent back to street level.
Hop-on, Hop-off Double-Decker Bus Tour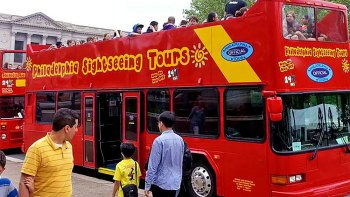 111 S. Independence Mall East between Market and Chestnut Street, Philadelphia, PA 19106

Aboard a double-decker bus, hear the history and stories that shaped Philadelphia. With 27 well-planned stops including the Liberty Bell and Reading Terminal Market, you are free to hop on and off the bus to explore landmarks, shops, museums, and historic sights.
Take a seat as your expert and highly entertaining guide leads you around town. Chose from either 2 or 3 full days of exploration, get to know the City of Brotherly Love's iconic institutions and roam its lively neighborhoods, from the Old City and Society Hill to Chinatown and Market East.
Explore the origins of the formation of the United States at Independence Hall and the National Constitution Center. Just steps away are more historic sites such as the Betsy Ross House, the United States Mint, and Elfreth's Alley—known as the oldest street in America. Grab lunch along your route from a food stall inside Reading Terminal Market, or take a respite in peaceful Rittenhouse Square, strolling by h high-end stores, locally owned boutiques and art galleries.
Route stops include:
The Barnes Foundation Collection
Independence Hall
National Constitution Center
Liberty Bell
Reading Terminal Market
Philadelphia Museum of Art
Rodin Museum
Eastern State Penitentiary
Please Touch Museum
The Philadelphia Zoo
The Franklin Institute
Academy of Natural Sciences of Drexel University
Philadelphia Pass: 40+ Attractions in 1 Pass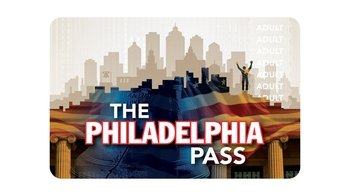 1 N Independence Mall 6th and Market Street, Philadelphia, Pennsylvania 19106

Discover the must-see attractions, historical landmarks, and world-class museums of the City of Brotherly Love with the Philadelphia Pass. With admission to more than 40 tours, museums, and attractions, plus a handy guidebook and great local discounts, this is your ticket for exploring Philly at your pace.
Use your guidebook to arrange an itinerary that hits all the Philly sites that interest you most. You can tour the cell blocks and solitary punishment cells of Eastern State Penitentiary—which once housed infamous criminals like "Slick Willie" Sutton and "Scarface" Al Capone. Or, step back into revolutionary times as you retrace the footsteps of Benjamin Franklin and his fellow patriots where the Declaration of Independence was signed.
The Philadelphia Pass includes admission to the following museums and attractions. The regular price of admission is listed next to each for your information:
Academy of Natural Science of Drexel University - $18
Adventure Aquarium - $26
African American Museum in Philadelphia - $14
American Helicopter Museum - $10
Barnes Foundation - $25
Bartram's Gardens - $12
Battleship New Jersey Museum and Memorial - $22
Betsy Ross House - $5
2-day Big Bus hop-on hop-off bus pass - $27
Brandywine River Museum - $12
City Hall Tower and Observation Deck - $6
Eastern State Penitentiary - $14
Fort Mifflin - $6
Franklin Footsteps walking tour - $19
Franklin's Grave - Christ Church Burial Ground - $5
Ghost Tours of Philadelphia - $17
Grim Philly Twilight Tours! - $20
Independence Seaport Museum - $13.50
Lincoln Financial Field Tours - $10
Longwood Gardens - $23
Mütter Museum - $15
Mummers Museum - $3.50
Mural Arts Tour - $20
National Constitution Center - $14.50
National Liberty Museum - $7
National Museum of Jewish American History - $12
One Liberty Observation Deck - $19
Penn Museum - University of Archaeology and Anthropology - $12
Pennsylvania Academy of the Fine Arts - $15
Philadelphia Museum of Art - $20
Philadelphia Zoo - $20
QVC Studio Tour - $7.50
RiverLink Ferry - $7
Simeone Foundation Automotive Museum - $12
The Franklin Institute - $20
The Philadelphia History Museum at Atwater Kent - $10
Wharton Esherick Museum - $12
Your Philadelphia Pass also entitles you to special discounts at the following restaurants, retailers, and activity providers:
Philadelphia Premium Outlets - VIP Coupon Book
The Encampment Store
The Newlin Grist Mill
The Sci-Store at the Franklin Institute
Philadelphia Movie Sites Tour
The Barnes Shop at the Barnes Foundation
Bistro Romano
City Tavern
Campos Deli
Chart House
Franklin Fountain, Traditional Ice Cream and Soda Fountain
Jim's Steaks
Moshulu
Scoop DeVille Ice Cream Parlour
Cosmic Café
Philadelphia Museum of Art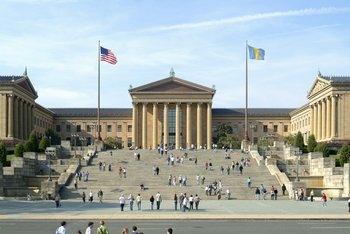 2600 Benjamin Franklin Parkway, Philadelphia, PA 19130

Discover at the world-class collection of one of the largest and most renowned museums in the country, home to more than 227,000 works of art. The striking neoclassical Philadelphia Museum of Art contains more than 200 galleries and architectural structures including a Japanese Teahouse and an Indian Temple Hall.
Explore the Impressionist galleries—home to Van Gogh's Sunflowers and Monet's Japanese Footbridge. Meander through the Modern and Contemporary galleries to discover Picasso's masterpiece Three Musicians, and stroll through architectural structures including a medieval cloister, a Japanese teahouse, a Chinese palace hall, and a 16th-century Indian temple hall.
A major dining and shopping destination, the museum's main building has 4 shops featuring art-inspired and one-of-a-kind items like books, prints, jewelry, clothing, crafts and toys, plus cafes and a fine-dining restaurant. Just steps down the parkway, see the largest collection of Rodin sculptures outside of Paris. This tranquil oasis is one of the world's greatest places to experience the work of celebrated French sculptor Auguste Rodin.
Small-Group Old City Walking Tour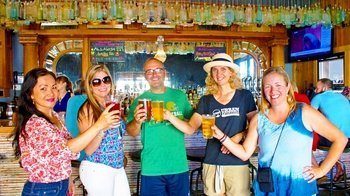 229 Arch Street, Philadelphia, PA 19106

Celebrate the unmistakable sights of Philadelphia on this guided, historical walking tour through the city's Independence National Historical Park. Rediscover American icons like the Liberty Bell, Betsy Ross House, Christ Church, and the UNESCO-listed Independence Hall.
Meet your guide at the Independence Visitor Center near the Independence Mall, National Constitution Center, and US Mint. A walk from the center, through the mall, and across the street takes you to the President's House, a site that served as the White House from 1790 to 1800—home to George Washington and John Adams during Philadelphia's tenure as the US capital.
Pause for a photo at the Liberty Bell and then head to Washington Square to hear stories about William Penn or visit the Tomb of the Unknown Soldier. Independence National Park is one of the most visited historic districts in the US. Walk past its centerpiece, UNESCO-listed Independence Hall, where debates were once held over the Declaration of Independence and US Constitution.
Inside the Independence National Park is Old City Philadelphia, commonly known as "America's most historic square mile." Here, see Benjamin Franklin's home and pass some of the trendiest pubs, shops, and cafés in the city. Take a break at a local coffee shop before continuing to the Betsy Ross House and Christ Church—America's first Episcopal church. End your tour at a local brewpub, where you can sip a locally brewed beer or enjoy a soft drink.
Private Tour of Historic Philadelphia with a Local Guide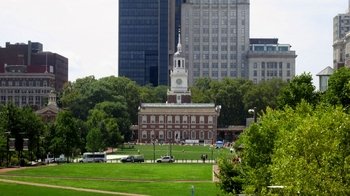 , Philadelphia, PA

The fascinating past of the United States and Philadelphia unfolds before you on this tour of the city. An engaging guide takes you on a journey through time, revealing stories of historical icons, liberation movements, and the birth of the nation as you visit landmarks throughout the city.
Meet your guide, a passionate and well-researched Philadelphia resident, and begin walking through the city to start your tour. Your guide shows you to iconic landmarks and buildings of significance around Philadelphia, including the Declaration House where the Declaration of Independence was originally drafted in 1776. At each stop, listen to captivating stories of the country's formation and birth, getting the chance to tie each historic moment to a physical place.
Visit areas like Welcome Park, also known as William Penn Park, to learn about historical figures such as Benjamin Franklin and William Penn himself. At the Betsy Ross House, hear tales of the woman who sewed the first American flag and the significance of her actions. Your guide also introduces you to the history of German immigrants in Philadelphia and Pennsylvania, giving you an idea of how their presence helped shape the region. At the end of your tour, bid your guide farewell and return to your hotel feeling enlightened.